Mobile Websites & Applications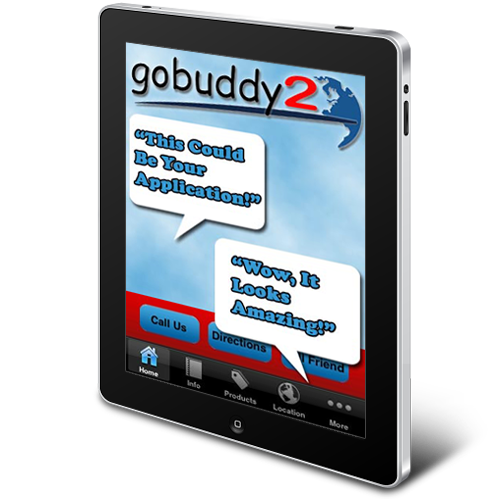 Click Here To View some of our Previous Work!
There are many ways to include useful pages in your App that will make it more interesting for your customers.  Make it  "feature rich" so they will want to use it!
1. Get Them There Quickly!
Give customers turn by turn GPS directions from anywhere in the world, directly to your business.
2. Make It Viral!
Create a viral buzz with our built in sharing capabilities to Facebook, twitter, and email.
3. Build Brand Loyalty!
Give your customers coupons for checking in at your business. Coupons can be "unlocked" based on your criteria such as getting a discount or something for free after so many visits (check-ins).
4. Reward Them!
Use QR coupons in your app to give special deals to bring customers in or reward them.
5. Let Them Know What Is Happening!
Provide up to date information about all of your businesses events and specials. Create an events calendar.
6. Keep Them Informed!
Parking problems, special deals, or whatever else they should know by creating an Information tab.
7. Give Customers Multiple Ways To Get In Touch With You!
Use a contact page so they can call or email.
8. Tie Your App Into Your Reservation System If Available!
If you use a Web based reservations system for your customers, you can give them access to it via your App very easily.
9. Get Happy Customers Emailing Photos To Your Business!
Getting a stack of pictures from happy customers is easy when you include the email photo page in your app.  Use them in your social media campaign to get even more customers.
10. Give Them Access To Your Blog!
Customers can access your blog when this page is included in your App.
11. Show Them An Image Gallery!
Pictures can tell a great story so include them and show your current and future customers why your business is such a great place.
12. Newsletter Sign-Up Can Add Depth To Your Brand!
13. Include Your YouTube Channel!
Creating a YouTube channel is a great idea and you can give them access to it from within your App.
14. Let Them Know Your Services!
Customers will appreciate knowing what you offer and how to access them.
There are other items you can include your App depending on your business.  For example, a tip calculator, menu, sale items, staff, forms and more!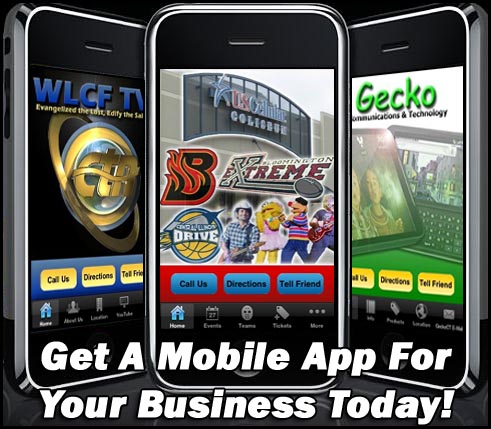 1. One on One Intimate Communications with Customers – Never before have business owners had the opportunity to put their put their business on a mobile device that customers have with them as much as 23 hours per day! You can put your brand, … your message, … and your promise within arms reach of your customers.
2. "Push Notifications" are messages you can send for free to your Customers. – Specials, discounts, reminders, Coupons and more are instantly distributed to all of your customers having your App and they have a 97% read rate versus 4% with email! Your marketing is going to be so much more effective by "pushing" your messages through the App. Compare that to the single feature of SMS texting where just one message sent to 1,000 customers could easily cost $100!
3. Constant Branding Right on the Customers' Mobile Devices. – They are on them 23 hours per day and your business is there with them.
4. A platform for "Proof" – Testimonials are so important these days and you can provide valuable information, testimonials (both written and video) delivered right to your prospective customers. Here's an example: You offer a great coupon to your customers via your App and it goes viral as customers share it with their friends. The new people download your App, get the coupon and see lots of great testimonials from your customers. They also see the fan wall where lots of happy customers have sent photos for you to post of them enjoying your business. Results: friend endorsed, review validated and happy pictures of customers have new people anxious to head your way to do business.
5. GPS Directions to your Location – Plus you can reward frequent customers by giving them coupons that are good after so many visits. Your customers can checkin when they are there without requiring any assistance from you or your employees!
6. One Tap Calling from their Mobile Device – You can include a "contact us" tab that will provide instant access to your business through your business mobile app.
7. Connect to Facebook, Twitter, Youtube, and Other Social Networking Sites. – What could be better than having your customers share your business with their friends via your business mobile app?
8. Viral Marketing – "Share this App" means that now you have a chance to make your business mobile app go viral without any additional marketing expense.
9. Keep in Contact with Your Customers – Using the "Push" feature of the business mobile app will allow you to remain in contact with your customers as frequently as makes sense for your business.
10. Keep them Engaged – With special coupons, included events listed on the business mobile app, your frequent visitor coupons, Push notifications and more, your customers will feel much closer to you than ever before.
11. Keep Them Coming Back – Using the above benefits of your business mobile app will keep them coming back more than ever before.
Some more Great Articles you may like:
[kop]